Joe Cluster
Executive Director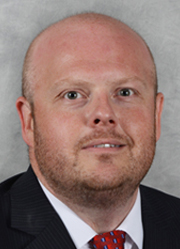 In October of 2013 Joe Cluster took over as the Executive Director of the Maryland Republican Party. Cluster is a lifelong resident of Maryland and has been active in the Republican Party since 2000. He has worked for the state party on two previous occasions. In 2002, he ran the party's field operation in which the party was successful in electing the first Republican governor of Maryland in 40 years and in 2004 he served as political director.
In 2014, Cluster lead the most successful election in Maryland Republican Party history when Republicans picked up seven seats in the Maryland House of Delegates, two seats in the Maryland Senate, over twenty more local seats and won the Governor's race.
Cluster has an extensive background in state and national politics having worked for the former Maryland Lt. Gov. Michael Steele as his director of external affairs from 2004-2007 and before that in Gov. Robert Ehrlich's appointments office. He has also worked in D.C. for the political action committee GOPAC and the Republican National Committee.